If you want to read a powerful CV you won't find better reading than one belonging to Seamus Redmond of Renobuild. With 40 years in business he has cemented his reputation within the flooring specialist industry as one of the best in the business. Although flooring has always been in the forefront of Seamus's mind he successfully tried his hand at other professions and ran a number of other successful businesses along the way which helped take him to where he is today.
Seamus was born and raised in Ferns, Co. Wexford and comes from a long line of successful entrepreneurs. His grandmother was a highly successful businesswoman during a time when it was extremely uncommon for women to work outside of the home, nevertheless, she ran a shop, an outside catering company together with a laundry business while tending to the household and taking care of four children. Mrs Redmond's drive and ambition obviously are instilled deep in the Redmond bloodline because her children went on to become very successful in their own business ventures. Seamus's father was a tremendously successful businessman throughout his life as a mechanic fixing, buying and selling motor vehicles, he had a milk company, was an undertaker, operated a taxi, minibus and coach business also he was the largest single independent operator of school buses of his generation.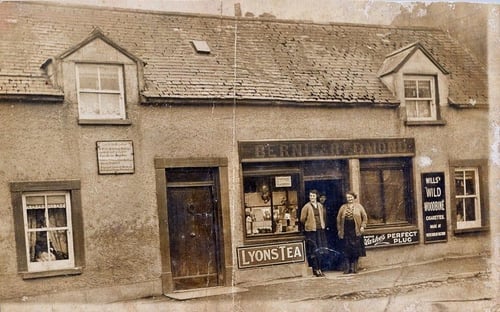 Seamus is the third generation of business owners within the Redmond family and his achievements do not disappoint either. He started his career in 1979 working for a number of years in the family business as a milkman. He went on to train in welding and engineering with AnCO taking these skills on board he set up and ran a light engineering company for a number of years. Subsequently, he worked within the family coach business until 1989 when he decided to pursue his lifelong passion of working within the flooring industry subsequently leading to him establishing Redmond Manufacturing Ltd bringing his flooring company to life.
A chance meeting with respected businessman Patrick d'Helft led to Seamus requesting a meeting with him in order to try and secure some work. Following this meeting, Seamus was given a 6-month maintenance contract with Wexal carrying out odd jobs within the factory. Seamus ended up completing these tasks before the 6 months were up so Mr d'Helft asked Seamus to take a look at the coatings on the factory floor with a possibility of taking over repairing it, which he did over a year and a half and ended up coating a 7,000m² floor in stages.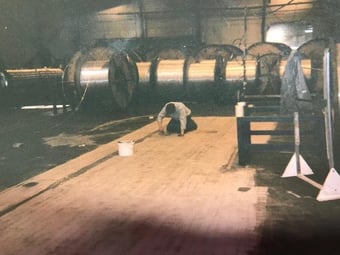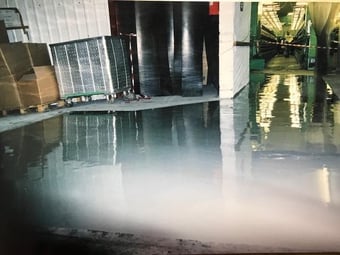 Wexal wanted to look at re-gigging their layout to facilitate the extrusion of radiator tubing, an area approximately 250m² was taken up by six pop rivet manufacturing machines. Seamus was approached by management to take the machines to his facility in Ferns to run them so they could better utilise the floor area in the factory.
What initially was a 6-month contract through Wexal for Robert Bosch GMBH actually lasted 9 months where he worked 24-hour shifts for 5 days a week by the end of the contract the machines were returned to Germany. Seamus was sent to Waterford IT where he completed a Quality Management Course on behalf of Wexal.
During the last three months of the contract, Seamus was asked to design and manufacture a returnable box weighing less than 50 kilos in order to ship delicate radiator tubes worldwide. The design and manufacture of these boxes kept them busy for the next 18 months during this time Seamus also designed and manufactured bespoke pallet systems to ship aluminium coil worldwide all for Wexal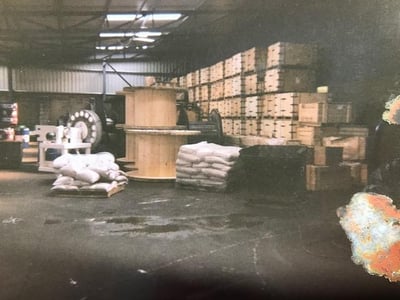 Unfortunately in 2001 Wexal closed its doors with the loss of 150 jobs directly and 150 more ancillary businesses such as Seamus's, bringing Seamus onto the next chapter. Patrick d'Helft and himself set up a company known as Red Elf Transport a truck leasing company specialising in trucks with cranes and obtained a national and international transport operators licence. They then bought a licence for Rhino Linings products which took them to Germany in order to look at products and systems, then subsequently they travelled to San Diego, California for training. Once they figured out the idiosyncrasies of this system they spread their wings to Malaga in Spain where they lined the inside of many swimming pools. Upon their return, they rented a facility on the Old Dublin Road in Enniscorthy where they sprayed truck bed liners of hundreds of pickup trucks and the floors of many containers and sand trucks.
The closure of Wexal offered Seamus the opportunity to concentrate more on his flooring business. His first customer outside of Wexford was Harris Hino and apart from a few hiccups along the way, he has been concentrating on this as his main business ever since.
In 2006 the flooring element of the business was booming so he decided to invest in HTC equipment to grow the concrete polishing element of the business, on top of this the lease was up on the facility in the Old Dublin Rd so he purchased an industrial unit investing in equipment and premises in Ferns.
TLM approached Seamus to see if he would agree to be an agent for their company selling their tiles in Ireland. Seamus looked at their system and samples went to visit their facility in France where he had a meeting with TLM, he agreed some objectives and terms then shortly after this he started to promote and sell their products in Ireland. In 2007 Seamus attended the Ideal homes exhibition in the RDS Dublin showcasing the products and services available. He laid concrete the week before then during the show he polished the concrete live so that people could see the process in action.
In 2008 the recession hit Renobuild hard as it did thousands of contractors within the construction industry. The investment he made in the HTC equipment meant that he could specialise in polished concrete and this element was the only part of the business that remained steady, reflecting on this Seamus said: "The next 10 years were a struggle but we managed to keep our heads above water and since then we can see lots of positive growth and are continuously reinvesting in new systems and procedures to give added value to our core flooring business". Examples of this positive growth are the fact that Seamus has just recently purchased state of the art Line marking machines.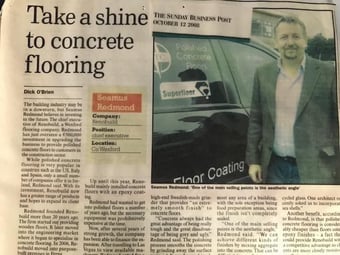 Seamus has been involved in the flooring industry, in one form or another since 1982 however, in 1989 he decided to turn his hobby into the successful business it is today, but like all successful businesses, things have not always been easy. Seamus's burning determination teamed with his ability to think two steps ahead of everyone else has helped his beloved company through many trials and tribulations. Seamus is not afraid to take risks in order to drive his company forward, so much so, that Seamus decided to take a huge risk and invest €500,000 into new machinery in order to upgrade the services that Renobuild could provide to their customers.
A bold move many would say, so much so that it caught the eye of the Sunday Business Post newspaper who wrote a feature piece on this risky move in October 2008.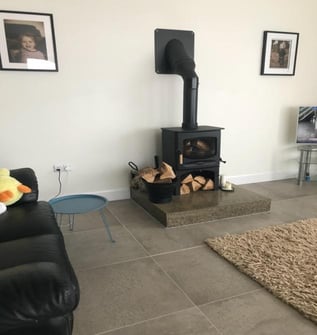 The new machines helped Renobuild create more aesthetically pleasing polished concrete floors. Seamus wanted to demonstrate just how much more could be done with concrete, proving that concrete is more than a hard grey ugly surface, so many different kinds of finishes could be achieved thus giving customers their very own unique flooring be it domestic projects where aesthetics are paramount to pharmaceutical where hygiene is a top priority.
Seamus has an amazing ability to work well with every type of flooring system,
Renobuild offers a multitude of systems such as Surface texturing, Dust proofing, Line marking, Bespoke feature pieces, Microcements & Overlays, Wall & Furniture Coatings, Epoxy Coatings, Polished Concrete and PVC Interlocking tiles.
Renobuild offer flooring solutions to fit distinct design briefs but more importantly, keep within the assigned budget.
Over the years Seamus has racked up an impressive client base across various industries such as retail, pharmaceutical, industrial, educational as well as domestic. There have been hundreds of jobs that have made a lasting impression on Seamus some for the right reasons and some for all the wrong reasons. Over the last 30 years there have been so many concrete jobs like Ballybough, Dublin which took almost a year to complete nonetheless, Renobuild achieved a state of the art finish or The Town Library building in Milstreet, Cork which the concrete looks as good today as it did 12 years ago. Renobuild is more than polished concrete though there have been so many feature pieces, swimming pools, countertops, fire hearths, seating areas and so on, thousands of resin and epoxy floors and plenty of PVC Interlocking tiles.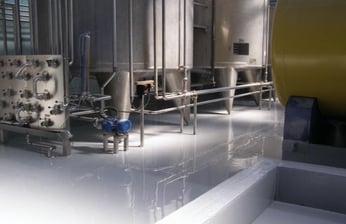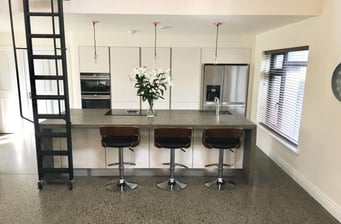 Over the past few weeks in order to write this blog I have been sitting down with Seamus chatting about previous jobs, there were so many he reminisced about, but there was one particular job that sticks out in his mind that he reflects on fondly, "I received a phone call one Friday morning from a gentleman in Galway asking could I come to Galway that day to look at a job. I explained that I was busy but would try to leave at 2 pm to be there that evening. Arrangements were made to meet at the Great Southern Hotel and after waiting for some time I noticed a man approach my car on a Honda 50 with a red helmet and an anorak jacket, I said to myself well this is going to turn out to be a complete waste of time. However, my 7-hour journey turned out to be a 1,200sqm floor which I finished and went on my way. A couple of years later the same gentleman contacted me again about a job that he wanted completing which involved removing the original 1,200sqm floor and laying one consisting of 3,500sqm. This was for Carragh Tool & Dye which has since been renamed Carragh Precision who manufacture high-end medical devices. It was one of those jobs that stuck in my mind because the owner although was an extremely eccentric person, was a super-intelligent engineer and an absolute pleasure to work with as were his entire team. Once he retired his management team took over and built a state of the art unit in Galway. I am proud to say it was one of the best jobs I have ever done to date, none the least helped by Karl Egan who laid approximately 3,000m2 slab without joints".
You feel a great sense of pride emanating from Seamus when he is chatting about his business it seems to bring a form of contentment like this is where he always know he would be his happiest. He enjoys chatting with customers, builders, architects, interior designers to name a few about the benefits of various systems, but isn't afraid to discuss the pitfalls either. He enjoys offering informative advice to people even when they are just at the planning stage, he has been known to sit with people discussing plans or finishes even if he is not directly involved in the project. People from all industries call the office regularly for advice or guidance on flooring topics because they know Seamus is a straight talker who believes in honesty, he is direct in his approach but not in an arrogant way, if he feels a system will not work he will say so, tell you why and offer an alternative solution. Seamus dedicates an unprecedented amount of his time going through materials, finishes, aesthetics as well as all other technical aspects of flooring. His passion for his work is as strong now as it was when he started the company back in 1989.
Seamus may be a sharp businessman but he also has a very caring nature and is keen to help everyone and anyone where he can. He was elected as the chairman of Ferns Developmental Society which is a group of people within the community of Ferns who offer their free time and money in order to drive the town of Ferns forwards to better the village and its amenities. He also has over the years sponsored various local sports clubs and donated money to Ferns 1st Responders, Irish Red Cross, Crescent Moon, Ferns National School and he commissioned and paid for a video to be created highlighting Ferns called 'The Spirit of Ferns':
He has always been a proud Ferns man and will do anything in his power to highlight all his local village has to offer.
Seamus displays his family roots like a badge of honour, he is filled with pride over what each member of the Redmond family has achieved in their lifetime. He set a goal years ago of returning back to his family home place at Station Road in Ferns which he has now successfully achieved.
Like everything in his life he rolled up his sleeves and threw himself into making this feel like home again building a workshop and office space. Now he is turning his attention to the outside giving his much-loved building a little facelift but is keen not to take from the history of the building too much as it holds so much sentimental value. He commissioned stonework to be completed on the outside of the office to modernise it a small bit, to his delight he learned that the stone used for the outside wall came from an old manor house in Ferns, which had to be demolished, however, the local stonemason salvaged the stone from this house to use on the office front this stone is apparently the same stone that was used to build the castle in Ferns centuries ago.
Being here gives Seamus a sense of familiarity and homeliness while creating an awareness of pride about how far he has come, surviving the ups and downs that being in business for 30 years can throw at you. It is safe to say Seamus looks back on his 30 years in business with many fond memories from the people he has worked for and with, the places he has been, the jobs he has worked on each and every aspect of this business has taught him valuable lessons along the way that will stay with him a lifetime and help him progress his much-loved company forward for many more years to come.