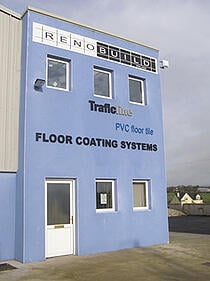 Renobuild Ireland are specialists in floor coating systems for Industry, Warehousing, Retail and Catering operations.
Renobuild Ireland was formed by Seamus Redmond in Ferns, Co Wexford, Ireland in 1996. In 2002 due to continued demand for the Renobuild Ireland products the company moved to a new facility at the industrial estate in Enniscorthy. In 2006 we moved to our purpose built building in Ferns, County Wexford.
We at Renobuild Ireland take the bother out of your business, we provide floor coating for Health & Safety, New E.U. regulations, hazard management, N.S.A.I., Hygiene requirements, ISO standard, Total Quality manufacturing, Clean rooms and world class manufacturing. By starting at the bottom we give you the right foundation to build on.

We will manufacture a floor coating for your facility anywhere in Ireland at a time that suits you.
We at Renobuild Ireland recognise the importance of your work and production schedules, so we structure our operation to ensure minimum disruption.

We operate to the highest and latest E.U. and international standards. We constantly monitor the technological and regulatory state of flooring requirements in every sector. This ensures that we are not just up to date but ahead of the game, and so are our customers.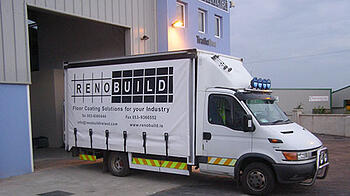 We at Renobuild Ireland have a strong customer focus at the centre of our business. We commit to follow through on all phases of the project, including maintenance and support.
Our trained operatives follow a quality policy of zero defects. Our experience of the particular needs of a vast range of individual businesses ensures that work will be carried out to the highest possible standard of quality, with minimal disruption.