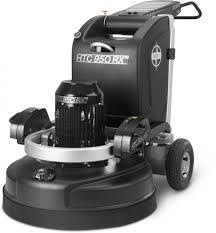 Is your concrete too smooth?
Has your concrete been rain-damaged?
Is your concrete surface delaminating?
Are you looking to get old coatings removed?
If you answered yes to any of the above Renobuild now have the solution, with the addition of our HTC Ravager grinding tool. With this machine, we can now offer bush hammering or surface retexturing to our customers in a much more cost-effective way. Our machines create a bush hammered profile perfect for high traction exterior surfaces and can remove rigid or brittle coatings. These machine tools can repair a failing cap on concrete or a slab that has been exposed to rain while curing the machines can expose large aggregate in as little as one pass and removes overlays with ease.
Bush Hammering is a system used by Stonemasons for many years, it gives surface texture to sandstone or concrete both for aesthetic reasons on a vertical surface and health and safety or slip resistance reasons on horizontal surfaces.
Bush Hammering consists of a pounding action that develops a textured surface to stone surfaces. The surface is struck repeatedly impacting the material surface too uniformly pit the stone surface and create a rough, weathered texture. This can enhance the natural tonal variations in the material and make the area more ascetically pleasing. Bush hammering can also be used for functional purposes too by helping concrete or other floor material to bond better.
Bush hammering is also used to add texture to an indoor or outdoor area, it is particularly popular in wet areas to provide slip resistance to a surface such as public footpaths.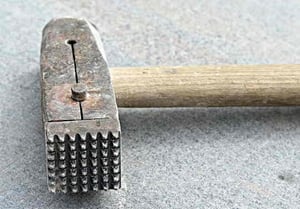 Our HTC Ravager grinding tools have the advantage over standard grinding as they have the capacity to remove up to 3mm per pass. Our HTC machines are quicker and faster and are the best-updated version of a stonemasons hammer.
The final finish will vary depending on stress applied to the surface when hammering and the tool applied, it is also managed by the placement of weights, for example, if the weight is placed at the back of the machine its results in light pressure on the machine whereas if placed upwards it adds extra pressure to the machine.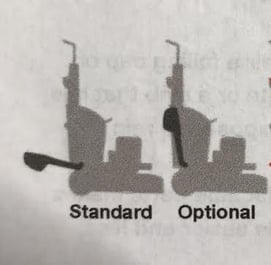 Dust is usually generated while carrying out the task of bush hammering however, it is no match for the vacuums attached to our machines which take care of this element leaving no mess or disturbance that our customers will have to deal with upon completion of the job.
See our machine in action:
If you would like further information about bush hammering please contact our office on 053-9366444.