The Linelazer ES 1000 is powered by a high-output battery allowing it to be used safely indoors and outdoors while having the power and performance needed for all line marking contracts. This machine has many amazing key features that I will delve into further below but most importantly for us here at Renobuild it is environmentally friendly, this machine is not run by an engine, therefore, no engine fumes are emitted, another benefit of having no engine is that there are no loud noises or vibration when running the machine making it a great tool to use where noise emissions may be a concern or problem for our customers.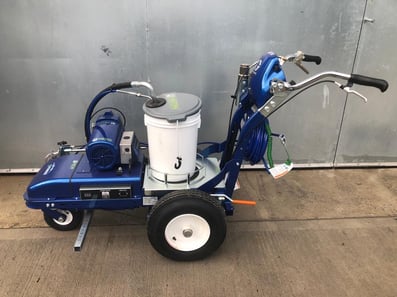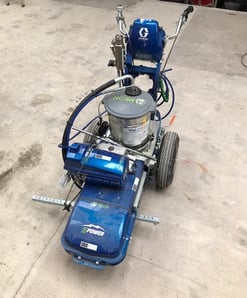 This machine is ideal to use in areas such as factories or warehouses where indoor striping or safety marking is a priority, Internal or external carparks or garages. Small enclosed spaces or poorly ventilated areas where fumes may be an issue, facilities full of activity where noise emissions may be a concern or places that would require works to be carried out during working hours or late at night when noise may be an issue.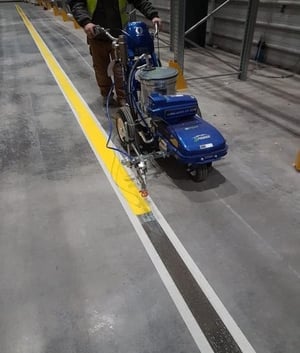 The Straight Line 1000 is a high-quality tape applicator ideal for applying two parallel strips of standard, inexpensive 2-inch masking tape at an adjustable and consistently exact distance apart up to the full 180 yards of tape. This ingenious invention allows a single person, standing up, to easily perform the same process that used to take two people four times longer, working on their knees.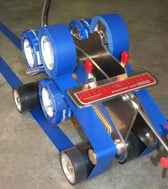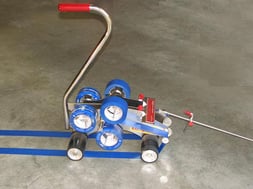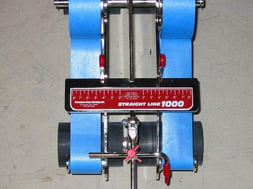 Gives the user the ability to create crisp, precise, durable aisle markings.
This state of the art machine allows us to paint the masked line using a roller eliminating overspray and allows you to use the paint best suited for your specific flooring surface. Line width can be adjusted to accurately produce standard line widths. The unique chalk pin allows the machine to act as an anchor while a chalk line is stretched, snapped and retracted by one person. It holds 6 strategically placed rolls of tape, three on each side allowing for 540 feet of continuous taping.
The Straight Line 1000™ also can be used to apply vinyl safety tape if temporary striping is required in your facility.
The protective nickel plating resists rust and corrosion to ensure years of reliable use.
The weights ensure the tape adhesion on a variety of surfaces, while the soft rubber wheels further enhance tape adhesion to almost any surface.
This machine is a must-have in any business as striping can be completed by one person in record time thus not only saving a great amount of time on a job but also saving your business money and manpower.
If you would like to learn more about our machines or line marking please contact the office by email info@renobuild.ie or 053-9366444.