Polished concrete floors are extremely popular not only for industrial projects but large domestic and commercial premises too. These floors are low maintenance, durable and easy to clean. They help reduce dust mite and allergen problems, it also does not support mould growth. All it takes to clean is a mop, a bucket of hot soapy water and a little elbow grease.

Polished concrete floors can last a lifetime making it a savvy investment, they are the best option to use with under floor heating as there are no insulators between you and your heating system, it retains heat longer than some screeds can thus helping to reduce heating costs. Polished concrete can amplify the amount of natural light coming in meaning less artificial lights in turn reducing electric bills.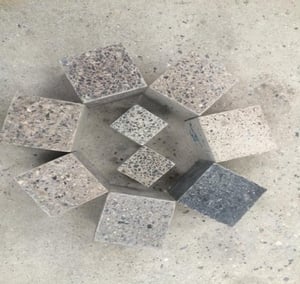 The look of your finished floor will depend on the area that the project will take place in. Each quarry may have different concrete mixes. To have some indication of what the finished product will look like we advise you get a free sample from your local quarry, normally 6x6 inch cube. Label the sample with your contact details and what finish you are interested in, click this link to see our available polished concrete finishes https://www.renobuild.ie/polished-concrete, post the cube to our office where we polish it to your desired finish and return on completion thus showing you what the floor will look like.
You can also opt for matt or gloss finish with little or no aggregate exposed. What is Aggregate I hear you ask, this is what gives the concrete its strength and durability, during the grinding and polishing we cut through the top layer to expose the aggregate.
Polished Concrete has no definitive colours as these are natural materials and have some shade variations. You can add pigment to the mix or add dye to the concrete but this will only change the shade not the colour, for example adding black dye will give the concrete a dark grey in turn adding white dye will only lighten the colour but not whiten the concrete.
If you want your contractor to lay the floors, they must have the required skills to do so, see our expert tips videos on how to lay the concrete correctly https://www.renobuild.ie/expert-tips alternatively contact Renobuild directly so we can speak with the contractor to explain the requirements to lay it correctly and thus have it ready for polishing.

Cracks will appear, this is the joys of using a natural material such as concrete, however, there are a number of things that can be done to minimise or reduce cracks or make them go in a certain direction, cracks can be filled and polished which enhances the overall look of the floors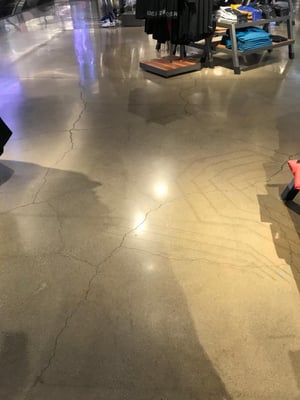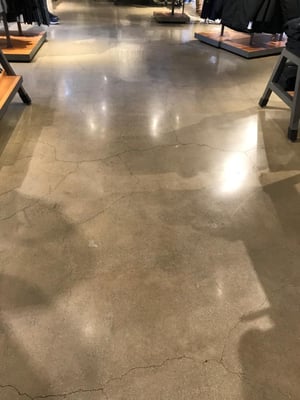 Polished Concrete can also be used outside but would not be polished to the same level as inside. It can be used in wet rooms but it is important to design groves into the floors and also have the floor designed to allow water run to one side.
Pricing depends on the size of the area, your desired finish, amount of edgework involved etc. The best option if you are considering a polished concrete floor is to head over to our website www.renobuild.ie hit the contact us button fill in the form, supply us with a floor plan and we will be in contact with a free quote.