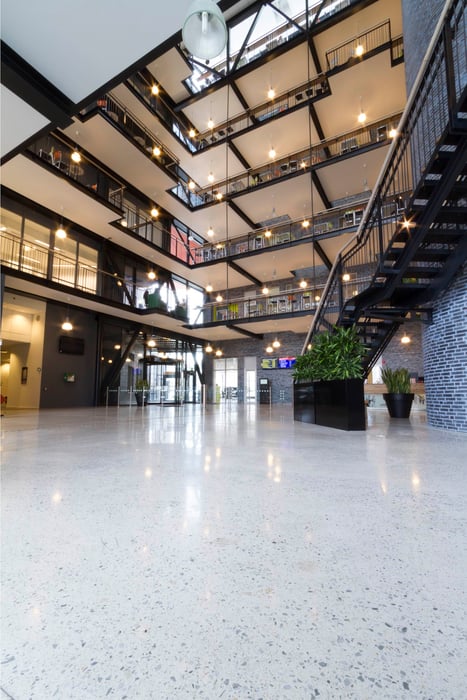 Polished Concrete, a newcomer and strong contender for the material of choice for Architects, Designers and Contractors in recent years. The on-trend aesthetic complimented with durability, low-maintenance and cost efficiency makes for a savvy investment for all types of commercial projects.
Although the material has a long history in industrial settings, polished concrete flooring has been growing in popularity for spaces such as restaurants, showrooms, hotels and even residential projects.
What is Polished Concrete?
Polished concrete is a concrete surface that is polished and sealed for a smooth, industrial style finish. This can be the base of the flooring or be added to optimise existing surfaces. With a highly unique finish, polished concrete serves its purpose in functionality and design.
Here are a few reasons why Designers, Architects and Contractors alike choose Polished Concrete for their commercial projects: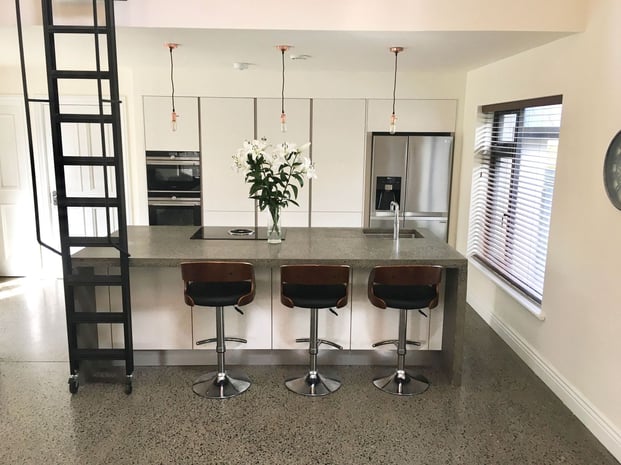 Aesthetic appeal
As you know, first impressions are everything. Polished concrete gives that initial impact your clients are asking for. With its highly reflective qualities, the concrete can amplify natural light to transform any space for a airy, fresh environment. Every polished concrete floor reflects the environment that surrounds it, meaning that no two floors are the same. This smooth surface also enables the room to feel open giving the illusion of a larger space.
Modern techniques have diversified polished concrete to come in an array of designs, colours and finishes. You can add pigment to the mix or dye to for your preferred colour as well as opt for matt or gloss finish with little or no aggregate exposed. At Renobuild we allow you to design your own by adding in something to make it yours. We have added in everything from copper coins to coloured glass to your own logo for a truly unique finish. The opportunities are endless.
Polished Concrete is the ideal way of making a bold design statement. You can integrate it into your project as a feature wall, flooring, countertop, furniture or even a bespoke design to add texture. Our feature pieces allow your vision to come to life with a unique, one-of-a-kind bold statement for your project.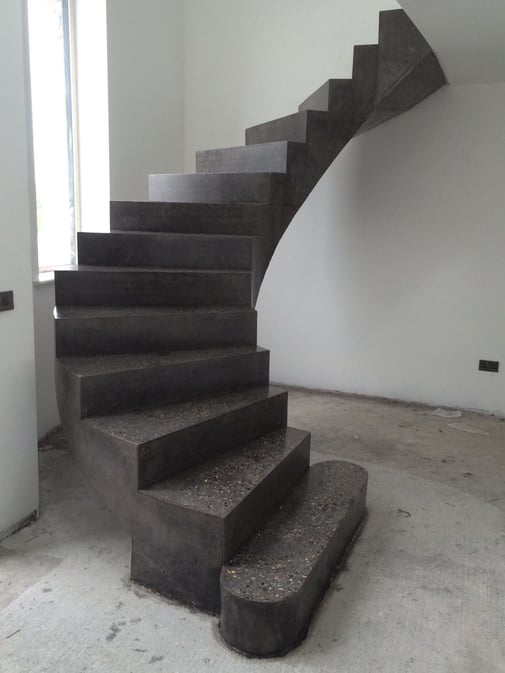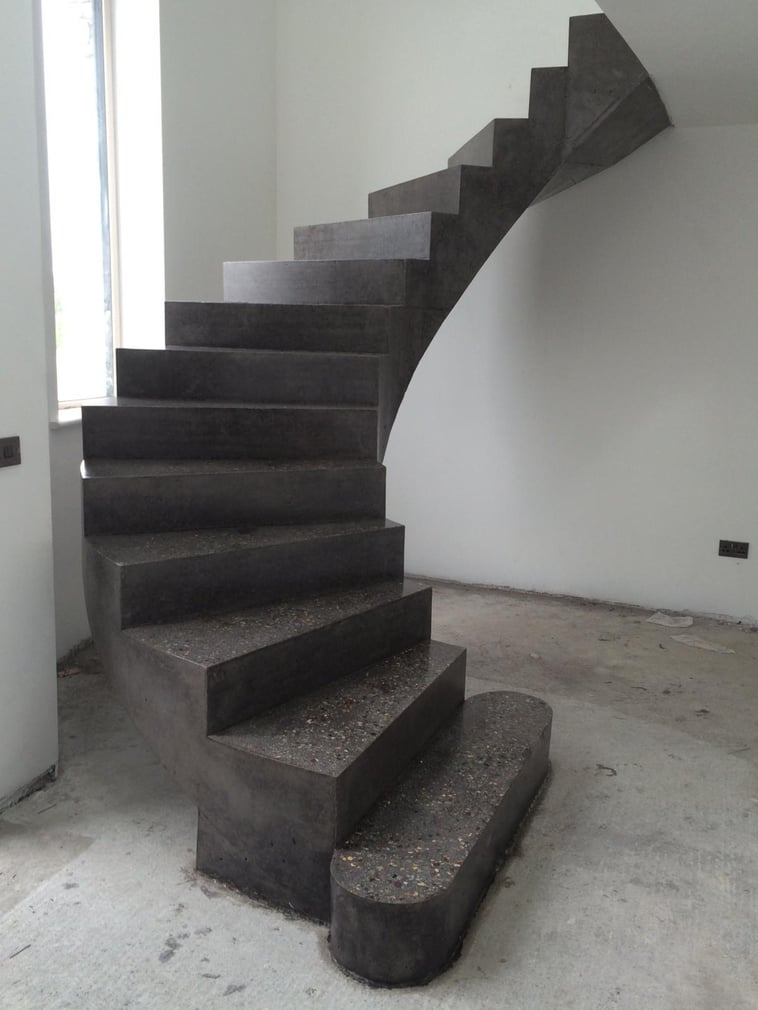 Why does location matter for your aesthetic?
The look of your finished floor will depend on the area that the project will take place in. Your local quarry will have different concrete mixes for you to choose from that will determine the look of your finish. If you retrieve a sample from your local quarry and send it to us, we can polish it to your desired finish for an indication of what your surface will look like.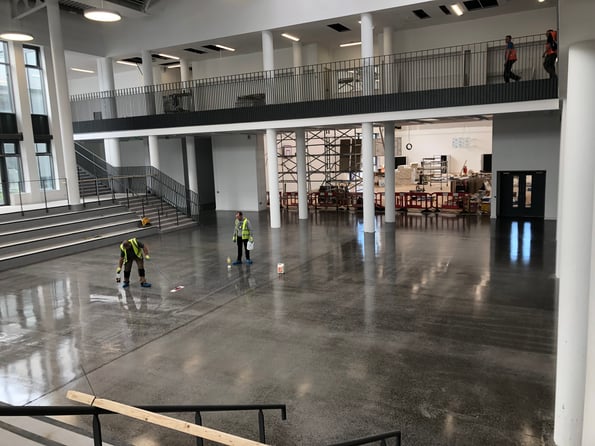 Low maintenance
Polished Concrete is not only aesthetically pleasing but will outlast your building if installed correctly. The concrete is designed as a hardwearing, durable flooring to withstand high volumes of foot and forklift traffic. The sleek surface is easy to clean and resistant to oil and chemical spills to optimise for manufacturing and kitchen spaces. To clean, all it takes is a mop, soapy water and a little elbow grease. Additionally, its resistance to mould, mildew and bacteria provide further advantages of application.
Its durability to weather conditions allows the concrete to be used outdoors for structures such as fireplaces and seating and its waterproof finish lend itself to wet rooms, swimming pools, spas and countertops.
Polished Concrete is a long term solution that provides a hardwearing blank canvas that fits any design aesthetic, making changing interiors a breeze.
Although the surface will last a lifetime, cracks may appear, this is the joys of using a natural material. However, there are a number of things that can be done to minimise or reduce cracks or make them go in a certain direction. Over time cracks can be filled and polished which enhances the overall look of the floors.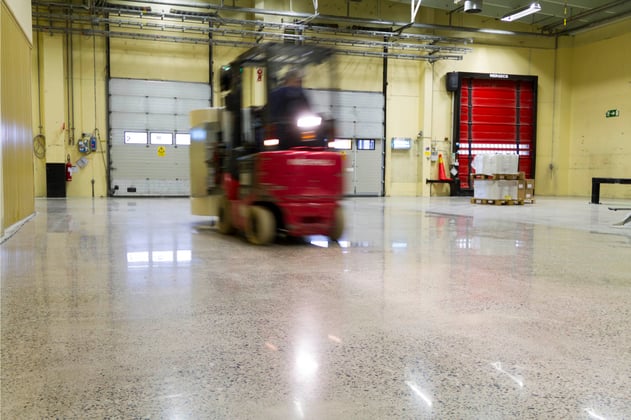 Why is installation critical to maintenance?
The process of concrete laying is a skill that is critical to master to achieve the polished finish your client desires. A perfectly laid concrete floor will allow for a durable, unique polished floor to impress your client. This is not difficult to achieve but requires specific knowledge on what needs to be done and why. A badly laid floor will only cost you in mistakes.
If you want your contractor to lay the floors, they must have the required skills to do so. We can help with this with our CPD expert tips on laying concrete. If the contractor of your project is unfamiliar with the laying of the concrete, we can get involved in the laying, finishing and polishing.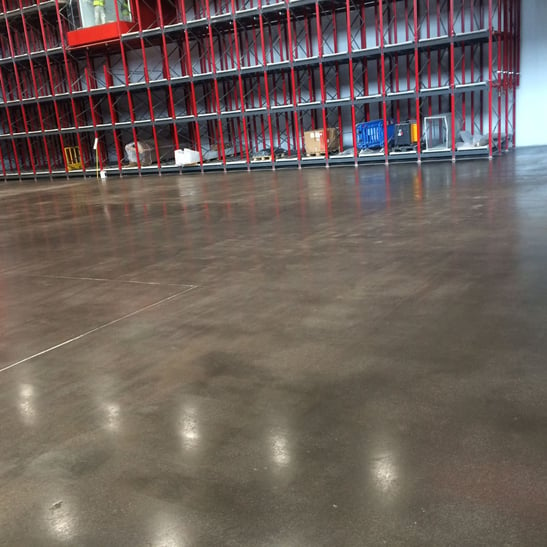 Safety
Polished Concrete creates a hazard free, safe environment for your customers and employees. Despite the smooth shiny finish, the concrete can be made non-slip if required to reduce accidents, this is ideal for industrial settings such as warehouses and manufacturing.
The smooth surface is hypo allergenic as there is no room for dust mites, mould or damp growth. This ensures the safety of your staff and customers with respiratory issues as the floor repels any residue.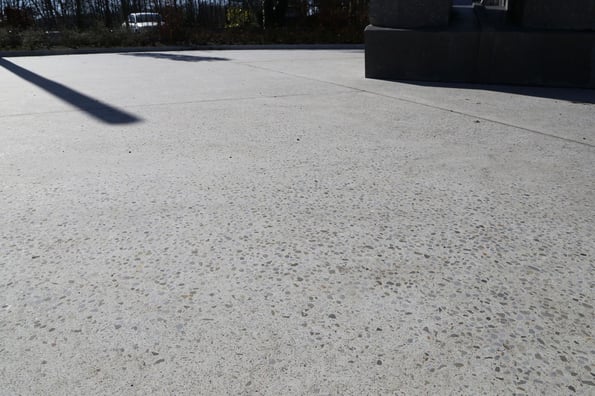 Cost efficiency
Polished Concrete will outlast your building. The flooring is durable and long lasting to reduce the need for maintenance. Other flooring options such as carpet or wood are known for wear and tear over time. Not only will it last, it will create significant savings in bills such as heating and lighting with its reflective capabilities and compatibility to hold heat for longer than any other floor when paired with underfloor heating. This is why, polished concrete is a long-term investment that will save you money and effort in the long run.
Pricing depends on the size of the area, your desired finish, amount of edgework involved etc. For help with pricing contact us or request a free quote and we will be happy to help you with your next project.
Do you have an upcoming project?