I have a picture of a floor I want, can you provide this floor?
Yes and No. We have found over the years when a customer calls us to enquire about a specific flooring system, they would normally have a picture or a particular floor finish in mind, but what people often don't know is the flooring system they enquire about is not the one they thought they had a picture of.
This happens a lot with search engines like Pinterest for example, a customer types in "polished concrete" and hundreds of amazing floor pictures appear on your screen, unfortunately though, included in those pictures are other types of floor finishes ranging from resin to microcement and so on. This is why when you are calling to enquire about a particular floor finish we would request that you email a few pictures to info@renobuild.ie of what it is your looking for.
That way we can have some idea of what route you are looking to take with transforming your floors and enables us to guide you to the finish you want.
Can I have a flooring system put over my existing floor?
Sometimes the floor you pick will not be compatible with the floor you currently have, so the first port of call would be for Renobuild to physically call to the building to inspect your current floor. We need to know what floor is already in place, what condition it is in and if it is compatible with the floor system that you want. Renobuild are operating in this industry for 30 years, during this time we have gained expert knowledge and skills which offer us the opportunity to offer knowledgeable advice and guidance on what options are available to you to suit your current floor with minimal preparation work while staying within your budget. If the flooring system you have picked will not suit we can offer an alternative system, we can provide photographs of our work previously completed using the recommended system in addition to supplying samples to give you an idea of what the finished product will look like.
Can you tell me how much your flooring costs?
Unfortunately this is like asking how long is a piece of string. Pricing a job depends on a number of factors such as:-

The size of the floor area
The finish you want
Amount of work involved in floor preparation
Are we laying the concrete
Rooms within the area
Edge work as this is all hand done for polished concrete floors
Condition of existing floor/concrete if applicable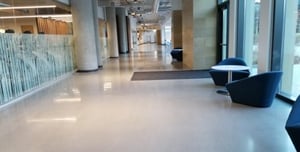 There is no such thing as a standard floor area because they come in all shapes and sizes making it impossible to price jobs based on an estimated floor area. If you want a specific price for your floor please send a detailed drawing or floor plan together with photos of the finish you are looking to achieve to info@renobuild.ie and we will be happy to send you a quote.
What durability does the floor offer?
Again there are a number of things that would determine the durability of your floor. As with anything, the amount of care that goes into the floor will help with the durability, regularly cleaning will make it last a life time. There are a number of issues that affect the durability such as the amount of foot traffic, frequency of machinery, Condition of Substrate (your previous flooring) in the case of micro topping or overlays, spillage such as chemicals or acidic substances that will dissolve or disintegrate the sealer.
What colours are available?
In terms of polished concrete your options depend on the area the project will take place in, quarries can have different concrete mixes so to have an idea of the colours available the best thing is to ask your local quarry for a 6x6 inch sample cube. Post the cube to our premises https://www.renobuild.ie/contact so we can grind and polish with different finishes on each side of the cube so that you can see what your finished floor will look like. In the case of epoxy resin floors the colours are endless you can pretty much choose any colour you like. In general microcement colours are pretty limitless but the availability can depend on suppliers. PVC Interlocking tiles come in a selection of colours that you can mix & match.
What type of finishes do you offer?
It all hinges on the type of flooring system you choose to put down. Polished concrete has numerous finishes you can display a lot of aggregate or none at all, have Platinum, Gold, Silver or Bronze finish with Matt or Gloss finish then Microcement has 3 different finishes which are Trowel Effect, Natural Sand & Sealed or High End Polished. Epoxy resin flooring has non-slip or smooth option while PVC Interlocking tiles have Diamond, Textured or Studded tiles. For more information on finishes head over to our website www.renobuild.ie.
What maintenance is required, will it have to redone or buffed?
All of Renobuild flooring requires little maintenance on a daily basis a simple wash with a mop in warm soapy water will suffice. We would have a detailed consultation before we lay your floors in order to ascertain which flooring system is best suited to your needs and aesthetic.
Can you provide samples?
Certainly, in terms of polished concrete as stated above you get a sample cube from your local quarry then we grind and polish it. With PVC Interlocking tiles we have sample tiles at our premises show casing all available colours. All other flooring systems we can provide samples on request. Over the years we have completed hundreds of domestic as well as commercial projects therefore gathering an abundance of photographs of the flooring system you want. If you have a particular floor in mind but are unsure as to what system it may be then feel free to contact us at info@renobuild.ie with your picture, floor plan or drawing of the area you want done and we will take it from there.
How long will it take to complete the project?
This will all depend on site preparation which is normally is the responsibility of the main contractor, other trades working in the area for example if we need to seal a floor we cannot have anyone walking on it, the size of the area you want completed, what flooring system you want put in, the amount of work needed to prepare the floor before we can lay your chosen system. There are certain elements that are out of our control which can affect completion time for instance concrete which was not laid by Renobuild that ended up being incorrectly laid this will result in extra grinding been required or in worst case scenario it can affect the finish you were wanting to achieve. Weather elements can affect the curing of concrete and this may delay us pouring or polishing a floor.
Which is better a matt or gloss finish?
There is no definite answer to this question it basically comes down to personal preference. Some people like to go with a matt finish if they have high gloss kitchen units, for commercial units owners tend to go for a matt finish to give the floor an industrial look. Customers who choose a gloss finish tend to do so when they are looking for a seamless floor finish.


If you are considering any of the above mentioned flooring systems and want to know more please check out our website www.renobuild.ie which has informative sections on each system. Have a look at our expert tips videos or if you would like to speak with one of our experts call us on 053-9366444 and we will be happy to help in any way we can.