When a company is trying to decide which flooring system to use, in our experience, it always comes down to Resin or Polished Concrete. We are constantly asked what are the benefits of each type of flooring system as well as the difference between the two which we will delve into further in this blog. It is important to mention that there are many similarities between them, they are both highly durable, light-reflective, chemical resistant, can be antistatic, easy to clean while obtaining a smooth shiny floor finish that can withstand constant foot traffic or machinery use within any facility. As both flooring systems have an impressive life span it makes them a great cost-saving measure for businesses in the long run.
| | |
| --- | --- |
| | |
| Resin Floor | Polished Concrete |
Polished Concrete has become increasingly popular because there are so many new and improved grinding machines and techniques that allow us to create more attractive finishes while resin flooring has a wider variety of colours available and is quicker to put down.
Factors to be taken into account when trying to choose which flooring system you want are functionality, your budget, aesthetics and type of finish you wish to achieve.
The technicalities can range from what type of flooring is already in place, once removed Renobuild would come to inspect the floor in order to see what substrate is underneath to assess the amount of work involved in preparing the floor for laying the new flooring system. Obviously, in a new building, there would be less floor preparation but in the case of polished concrete the concrete would need to be laid correctly before we attempt to polish it, have a look at our expert tips videos https://www.renobuild.ie/expert-tips or check out our blog https://www.renobuild.ie/blog/why-it-is-so-important-to-lay-concrete-correctly detailing how the concrete should be laid for polishing. If required this is something that Renobuild will take on but have no problem discussing with your builder in order to ensure it is laid correctly for polishing.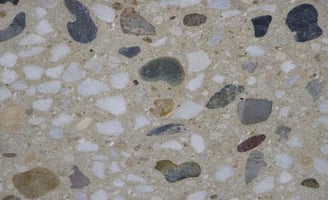 Polished concrete is created by the use of grinding machines to expose as much or as little of the natural aggregate within the concrete to achieve a smooth shiny surface. Epoxy resin consists of a layer or layers of self-smoothing coating, flow applied or trowel applied mortar over various different types of surfaces such as concrete, steel, tiles to form a durable protective aesthetic floor. The colour of Polished concrete depends on the cement mix you get from your local quarry and this cannot be changed, you can add a pigment or dye to the concrete mix but this will only change the shade, not the colour, for example adding black dye will give the concrete a dark grey look, Renobuild does not recommend adding these because you cannot get a definitive colour. If it's a specific colour your after then Epoxy Resin is the way to go as there are a multitude of colours to choose from, click on this link to check the Ral for available colours http://www.ralcolor.com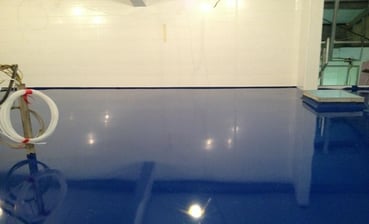 Resin floors can handle heavy weight on a daily basis with ease, it has durability and strength to withstand the harshest of environments such as temperature regulation, chemical resistance, slip resistance, oil and stain resistance and even bacterial elements. It maintains a seamless finish that is easy to clean. Typically a 3mm epoxy system will result in a surface comprehensive strength of 60MPa. Resin floors are great for concealing and correcting imperfections because it is seamless and highly impervious which is ideal for an industry where environmental issues or spillage containment is crucial. Epoxy resin floors can have design patterns running through it or have certain materials added such as coloured stone, glass or you can create your own signature 3D flooring effect.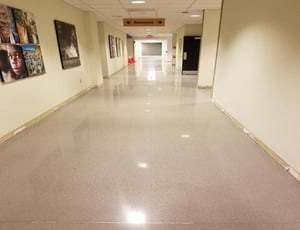 Polished concrete floors are robust and hard-wearing it is not easily susceptible to tyre marking, it is great for reflecting light and retaining heat helping to reduce costs. It can reduce dust and prevents a build-up of other allergens leading to better indoor air quality and does not support mould growth. Polished concrete is easy to clean which is why it is hugely popular in the commercial sector. There is a bit of work involved before polishing can commence in the case of existing floors it is vital the concrete was laid and finished correctly, smaller problems like cracks or chunks missing can be repaired but if the substrate is gone too far it may not be possible to polish at all if this is the case we would recommend using an overlay system. In the case of a new build as mentioned above the concrete must be laid a particular way, however, it is vital that the mix supplied from the quarry is correct also make sure the existing concrete floor can take the amount grinding required to polish the floor which would generally consist of up to 5mm coming off it.
Polished concrete is also a great tool for various different industries because you can create one of a kind feature pieces by creating furniture with polished concrete and the options are endless. Check out some of the feature pieces that we have already created by following this link https://www.renobuild.ie/feature-pieces
We hope that you found the above somewhat informative and may even have helped or pointed you in the right direction in trying to decide what flooring system would best suit your facility. If you are still unsure or have a few questions please feel free to contact Renobuild through our website https://www.renobuild.ie/contact or give us a call on 053-9366444 we are always happy to help.