In commercial spaces, such as in retail, hospitality, offices, and reception areas, there are some key factors that must be accounted for in your chosen flooring to ensure a long-lasting, hard-wearing floor that can withstand heavy footfall for decades to come. These include being:
Durable

and resistant to scratches

,

marks

, and

damage

;

Low

maintenance

to clean and

keep

in good

condition;

Aesthetically fit

ting

for

the

space

it is in – combining functionality with

style;

Cost

effective as a long-lasting floor

system

;

Comfortable for walking and standing

on

over a long period of time.
We have a range of flooring systems available to meet the specific requirements of your space, including Terrazzo, Overlays, Microcements, Epoxy Resin, Polished Concrete, and Flexi-Tile PVC Interlocking Floor Tiles.
Terrazzo
Terrazzo systems are a type of Overlay product. Overlays are cement-based, liquid applied systems design primarily to give a more uniform aesthetic, and Terrazzo systems are thicker and can also have aggregate added either in the manufacturing process or during application.
This type of flooring is incredibly durable and long-lasting, able to withstand heavy footfall for decades. It is most suited for larger spaces to increase its cost effectiveness at the time of purchase, and with very low overall lifetime cost.
Terrazzo is also one of the most aesthetically diverse products available. At Renobuild, our experts are able to implement a range of colours, patterns, or brand logos into the flooring to align with your ideal design.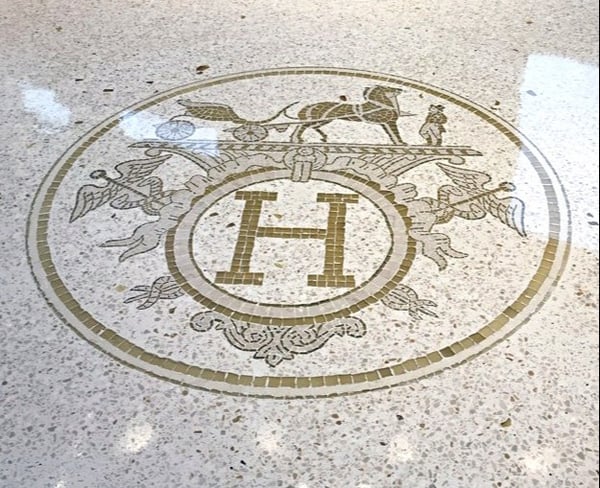 Overlays
One of our Design Floor options, Overlays can be applied in 5-15mm thickness. A 5mm application gives a natural, sanded appearance, and thicker applications provide a sleek, high-gloss polished appearance. All systems can be coloured during the manufacturing process or have pigmentation added during the mixing process.
This stylish but hard-wearing, long-lasting flooring system combines functionality and beauty effortlessly, able to maintain its polished look over many years in high-traffic areas.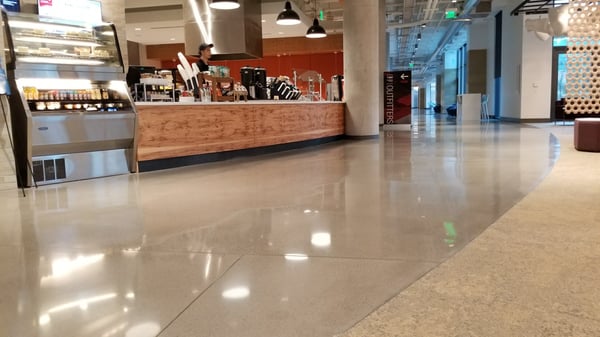 Microcement
Also known as
Microtopping
, Micro-screed, or Micro-concrete, Microcement
is another Design Floor option, consisting of a cement and polymer-based coating thinly applied to floors, walls, and, in some cases, joinery in residential and commercial environments to create a concrete look.
Microcement tends to be laid 3-5mm thick, and can have a stone effect or semi-polished, cloudy, or dragged appearance. This flooring system is waterproof, durable, and flexible - making it the perfect product to pair with underfloor heating systems. The hard-wearing nature of this product makes it ideal in commercial and hospitality spaces.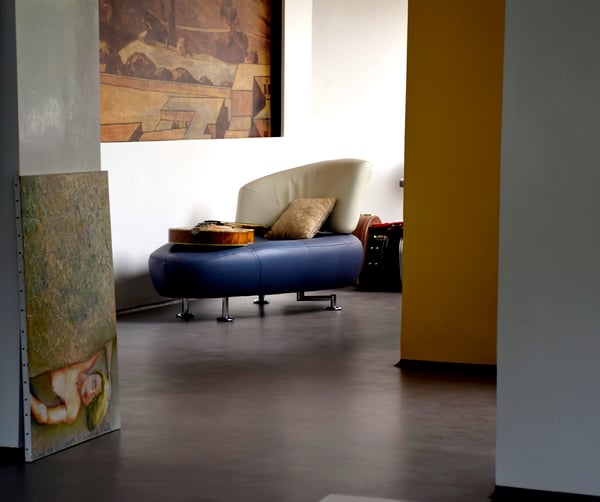 Epoxy Resin
Epoxy Resin is flooring is made of a range of self-smoothing pigmented floor screeds, and is known for its durability, strong adhesion and chemical resistance, and for being easy to clean and maintain.
This flooring type is incredibly versatile; it is hard-wearing and functional for areas of heavy footfall over long periods of time, mould and odour-resistant, and resistant against dust, debris, oil, water, and harsh chemicals. It is also one of the most low maintenance flooring systems to clean and maintain.
In addition, Epoxy Resin is available in a wide range of colours, so it is an easy flooring option to align with the existing aesthetic of a space.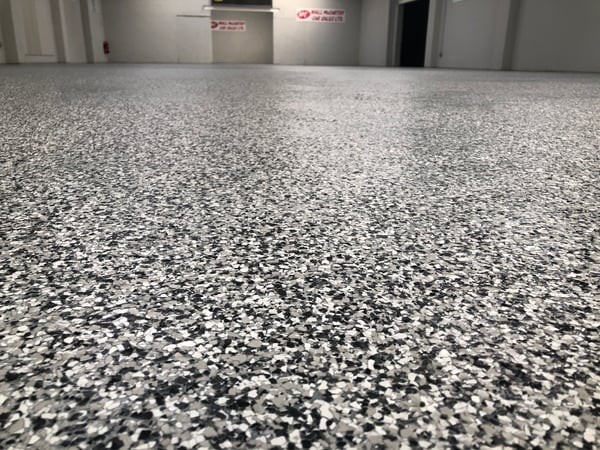 Polished Concrete
Polished Concrete consists of four elements, sand, cement, water and aggregate (stone). The concrete is so refined that it's difficult to mark, which allows for an industrial strength flooring that will outlast your building.
Ideal for areas where durability, ease of maintenance, and a beautiful finish are the primary concerns. Polished Concrete is resistant to scratches and marks, and can withstand heavy foot traffic for decades. It is a low maintenance cleaning option, and does not require any specialist cleaning products.
Additionally, it is an aesthetically versatile product – you can design your own Polished Concrete by adding in something to make it yours. In our 30 years of working with Polished Concrete, we have added in everything from copper coins, to coloured glass, to sea shells, to organisations' own logos for a truly unique finish. The opportunities are endless.

Flexi-Tile PVC Interlocking Floor Tiles
Flexi-Tile flooring tiles are hard-wearing, abrasion-resistant, non-slip, and easily customisable to suit to design of a space - ideal for commercial businesses such as gyms, leisure centres, and showrooms. The finish, colour, and pattern can all be tailored to suit the client's preferences or branding.
Installation of this flooring system is quick and easy, providing minimal or no disruption to business activity. These tiles can be laid directly over an existing floor without noise or dust.
An additional bonus of this flooring type is that it is also one of our more environmentally friendly products, being 100% recyclable and long-lasting.

Have a design in mind?