In the pharmaceutical industry, maintaining excellent standards of hygiene is critical, particularly during production and processing. Pharmaceuticals are a sensitive and precise science, and every step must be designed with cleanliness and sanitation as a priority to avoid risk of contamination.
To meet this requirement, an Epoxy Resin flooring system is ideal. It is easy to clean and maintain to protect employees, products, and customers.
Why

doe

s

a seamless floor matter?
One of the most important factors with Epoxy Resin floors is that they are seamless. This helps to prevent dangerous bacteria and microbes from growing in the small seams, cracks, grout lines, or gaps that can be present in other flooring types.
Any crevices in flooring can harbour potentially dangerous or disruptive bacteria, mould, and other microorganisms because they are often missed by standard cleaning procedures such as stream cleaners or mops. A seamless floor without any gaps, including at the joint between the floor and the wall, can help eliminate this risk and heighten the hygiene standard of a space.

Easy to

clean
Our Epoxy Resin floors are easy to clean, hypoallergenic, and resistant to bacteria growth, minimising both the risk of contamination and the amount of time you need to spend on maintenance. This flooring type provides a dust-free surface that is durable and chemical-resistant, allowing any spillages to be quickly and simply cleaned away without leaving any damage behind.
Personalisation options
As an additional safety step, we are also able to include health and safety floor markings. For a more decorative touch, we can include company logos or align the flooring with your brand colours. Our vast range of aesthetic options allow us to combine functionality with appearance perfectly.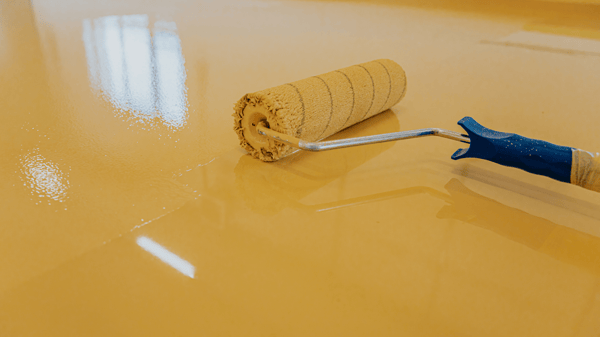 Additional benefits for the pharmaceutical industry
Minimal disruption to operations
Unlike other flooring types, Epoxy Resin does not require additional polishing or grinding once the floor has been installed. This helps to minimise the time spent installing the floor and reduces disruption to the normal operations of the facility.
Durable and long-lasting
This flooring system can be optimised to suit the needs of the space – such as being tailored to increase high impact protection, chemical and shock resistance, and implementing an anti-static quality. Epoxy Resin is incredibly durable and long-lasting, and, with a little care, is easy to keep in good condition for years to come.

Have a design in mind?